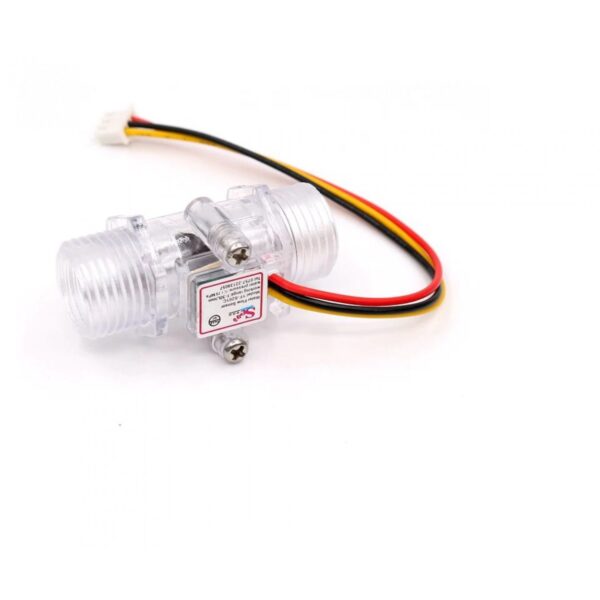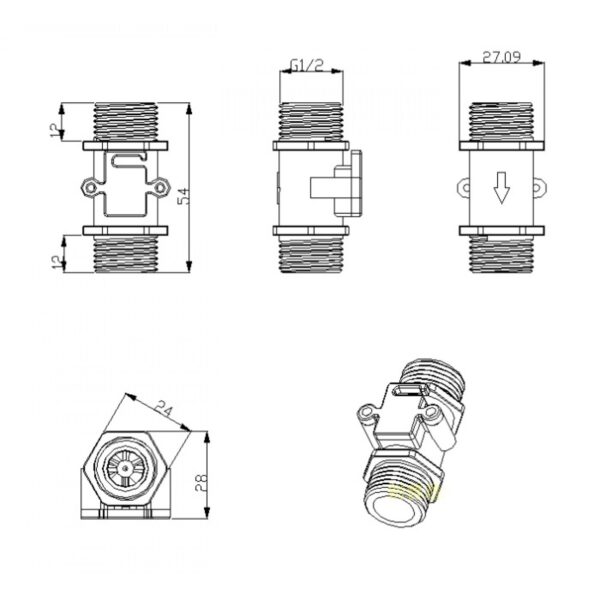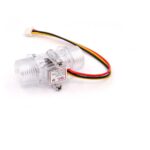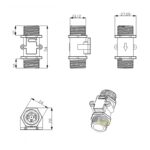 YF-201C 透明水流量傳感器 透明流量計 渦輪流量計 4分流量傳感器
Compare
描述
YF-201C 透明水流量傳感器 透明流量計 渦輪流量計 4分流量傳感器
YF-201C 透明水流量傳感器 主要由塑膠閥體、水流轉子組件和霍爾傳感器組成。它安裝在水管上以檢測進水流量。當水通過水流轉子組件時,磁轉子旋轉,轉速隨流量變化。霍爾傳感器輸出相應的脈衝信號反饋給控制器,由控制器進行判斷。調節水流量。
1、本產品外觀輕巧靈活,體積小,安裝方便。

2、葉輪內裝有不銹鋼軸和不銹鋼珠輔助旋轉。從而提高旋轉器的靈敏度。

3、密封圈採用上下受力結構,不漏水。

4、霍爾元件採用美國進口,採用日本進口O型防水圍裙包裝。 出水口採用防水矽膠,加強防水。(定制電路板全密封防水。)

5、所有原材料均符合ROHS檢測標準。 
特色與規格
1 外觀產品標識清晰,準確無誤符合要求
2 耐水壓>1.75MPa
3 工作電壓範圍DC5~15V
4 絕緣電阻>100MΩ
5 精度﹝在1~30L\MIN﹞±10%
6 流量脈衝特性(5*Q) Q=L/Min±3%
7 輸出脈衝高電平>DC 4.7V(輸入電壓DC 5V)
8 輸出脈衝低電平
9 輸出脈衝佔空比50%±10%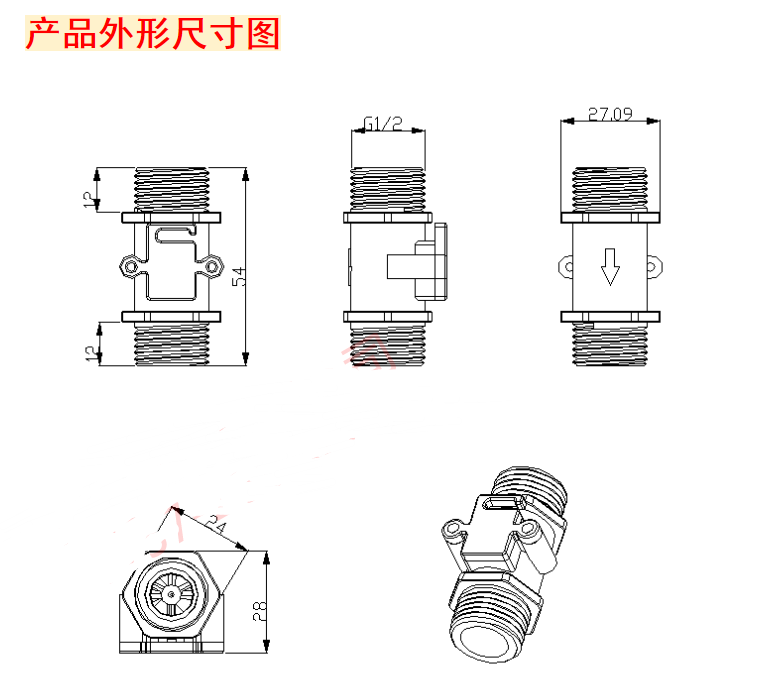 YF-201C Water Flow Sensor – G1/2″ Aansluiting
Product introduction
   The water flow sensor is mainly composed of a plastic valve body, a water flow rotor assembly and a Hall sensor. It is installed on the water pipe to detect the inflow flow. When the water passes through the water flow rotor assembly, the magnetic rotor rotates and the rotation speed changes with the flow rate. The Hall sensor outputs a corresponding pulse signal and feeds back to the controller, which is judged by the controller. The amount of water flow is regulated.
Features
1. This product is light and flexible in appearance, small in size and easy to install.
2. The impeller is internally set with a stainless steel shaft and stainless steel beads to assist in rotation. Thereby improving the sensitivity of the rotator.
3. The sealing ring adopts the upper and lower force structure without water leakage.
4. The Hall element is imported from the United States and is packaged in an O-type waterproof apron imported from Japan. The outlet is made of waterproof silicone to enhance waterproof. (Customized circuit board is fully sealed and waterproof.)
5. All raw materials are in compliance with ROHS testing standards.
Product parameters
Project

Parameter

Model

HL-YF201C

Water pressure

>1.75MPa

Operating voltage range

DC5~15V

Insulation resistance

>100MΩ

Precision

(1~30L/min)±10%

Flow pulse characteristic

(5*Q) Q=L/Min±3%

Output pulse high

>DC 4.7V (input voltage DC 5V)

Output pulse low

Output pulse duty cycle

50%±10%

Wiring

Red IN is connected to the positive pole

Yellow OUT signal output line Black GND is connected to the negative pole
flow Sensor Water Flow Sensor Water Flow Sensor Water Flow Sensor Water Flow Sensor Water Flow Sensor Water Flow Sensor