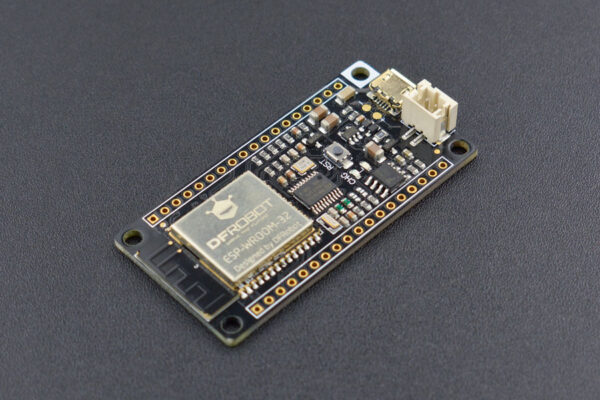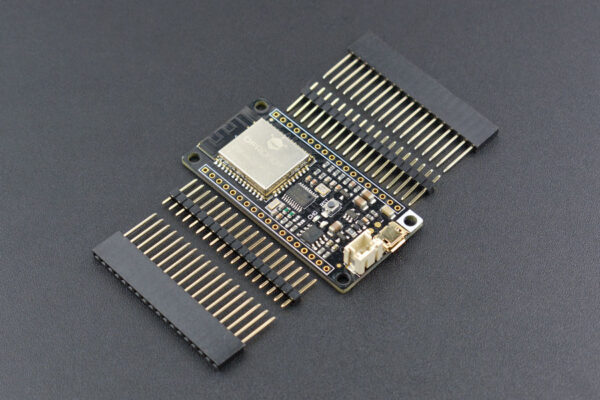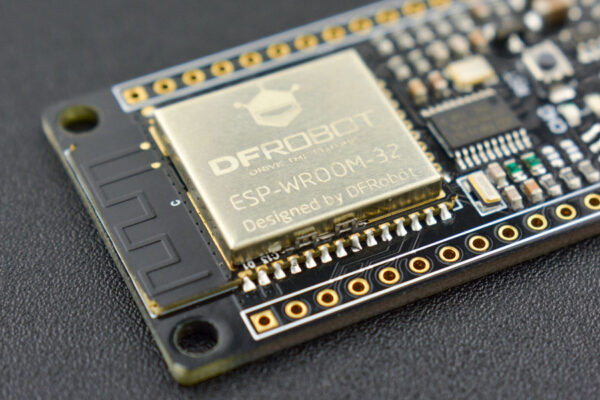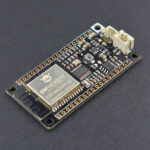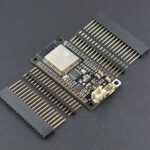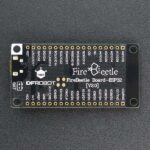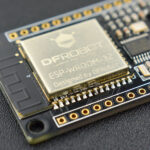 DFRobot FireBeetle ESP32 螢火蟲開發板 核心 ESP-WROOM-32 雙核微控制器 WiFi 藍牙 開發板
Compare
描述
DFRobot FireBeetle ESP32 螢火蟲開發板 核心 ESP-WROOM-32 雙核微控制器 WiFi 藍牙 開發板
DFRobot FireBeetle ESP32 螢火蟲開發板, 內核心為 ESP-WROOM-32 雙核微控制器 WiFi 藍牙 開發板 是專為物聯網設計的低功耗微控制器。此款 FireBeetle Board – ESP32板載ESP-WROOM-32雙核晶片,支持WiFi和藍牙雙模通信,外圍兼容低功耗硬件設計,深度睡眠模式下功耗僅為10uA。主控器支持USB和外接3.7V鋰電池兩種供電方式,可實現雙電源下自動切換電源功能,並支持USB和外接DC兩種充電方式。體積小巧,接口方便,上手簡單,可直接應用於物聯網低功耗項目。
DFRobot FireBeetle ESP32 螢火蟲開發板 在硬件上做了特殊的arduino IDE兼容,不用手動切換boot模式,實現一鍵下載。在編程方面,支持Arduino、idf(linux)、micropython等多種方式,並且,對於Arduino IDE做了引腳映射,可以直接傳遞Dx來配置引腳,使用方式上兼容UNO,從而降低了使用的門檻。
FireBeetle Board – ESP32主板在硬件上做了特殊的arduino IDE兼容,不用手動切換boot模式,實現一鍵下載。在編程方面,支持Arduino、idf(linux)、micropython等多種方式,並且,對於Arduino IDE做了引腳映射,可以直接傳遞Dx來配置引腳,使用方式上兼容UNO,從而降低了使用的門檻。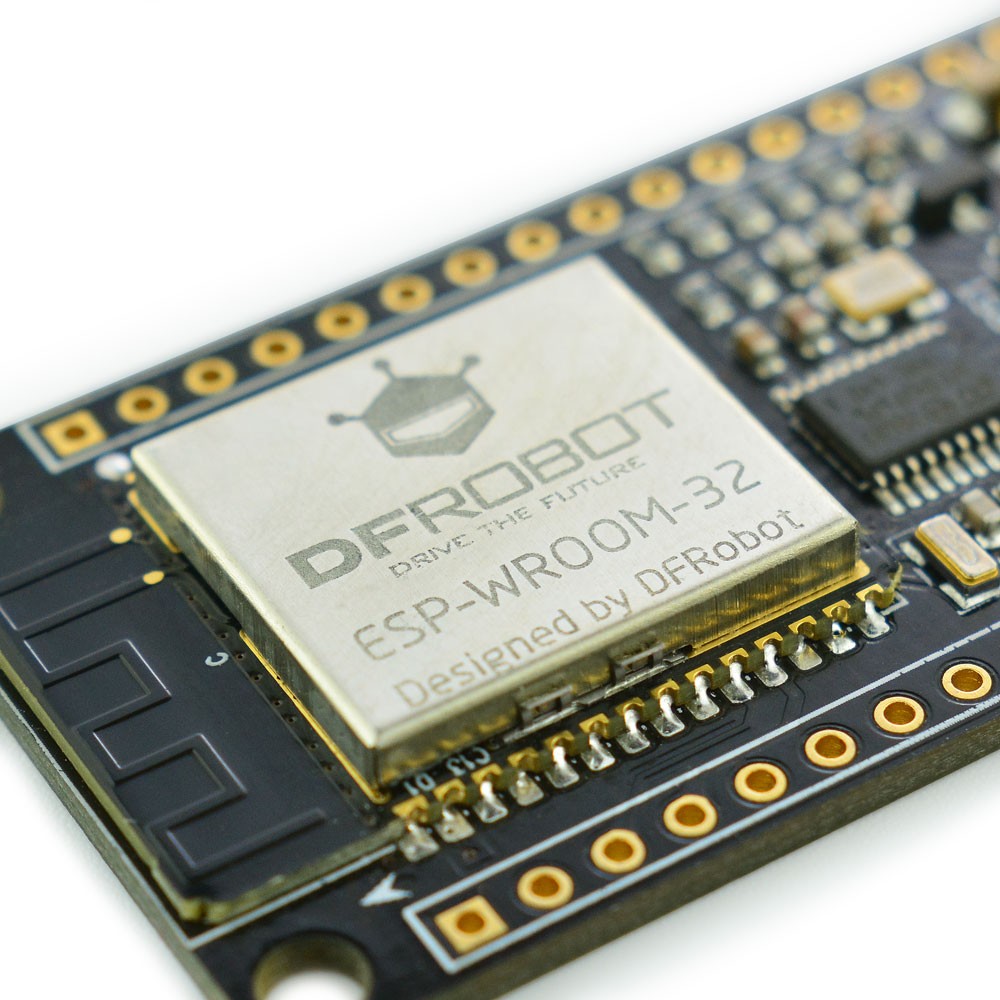 請注意:
ESP32仍然針對開發人員,並不是所有的外設都具有示例代碼的完整功能,還有一些bug需要被發現和修復。在Arduino IDE下,IO管腳功能以及I2C/SPI可以直接調用,其他功能依舊在開發中。
版本更新:1.新增防反接絲印(白色方塊) 2.調整3.7V鋰電池接口向上
特性
DFRobot FireBeetle系列兼容

低功耗(Ultra-low power 為10uA)

響應速度快(最高400KHz)

性價比高

小尺寸,方便安裝
技術規格
工作電壓:3.3V 

輸入電壓:3.3V~5V

支持低功耗:10uA

支持最大放電電流:600mA@3.3V LDO

支持最大充電電流:500mA

支持USB充電

處理器:Tensilica LX6雙核處理器(一核處理高速連接;一核獨立應用開發)

主頻:240MHz

SRAM:520KB

Flash:16Mbit

Wi-Fi標準:FCC/CE/TELEC/KCC 

Wi-Fi協議:802.11 b/g/n/d/e/i/k/r (802.11n,速度高達150 Mbps),A-MPDU和A-MSDU聚合,支持0.4us防護間隔 

頻率範圍:2.4~2.5 GHz 

藍牙協議:符合藍牙v4.2 BR/EDR和BLE標準 

藍牙音頻:CVSD和SBC音頻低功耗:10uA

工作電流:80mA(平均)

頻率範圍:2.4~2.5GHz

支持Arduino一鍵下載

支持micropython

片上時鐘:40MHz晶振、32.768KHz晶振

數字I/O:10(arduino默認)

模擬輸入:5(arduino默認)

SPI:1(arduino默認)

I2C:1(arduino默認)

I2S:1(arduino默認)

LED_BUILTIN:D9

接口方式:FireBeetle系列兼容 

工作溫度:-40℃~+85℃ 

模塊尺寸:24 × 53(mm)/0.94 x 2.09(inches)

安裝孔尺寸:內徑3.1mm/外徑6mm
配送清單 
FireBeetle Board – ESP32 

x1

18pin-2.54mm間距排針

x2

18pin-2.54mm間距排母

x2
相關文檔
DFRobot FireBeetle ESP32 螢火蟲開發板 
性能描述
工作電壓:3.3V
輸入電壓:3.3V~5.5V
支持低功耗:10uA
支持最大放電電流:600mA@3.3V LDO
支持最大充電電流:500mA
支持USB充電
處理器:Tensilica LX6雙核處理器(一核處理高速連接;一核獨立應用開發)
主頻:240MHz
SRAM:520KB
快訊:16兆
Wi-Fi標準:FCC/CE/TELEC/KCC
Wi-Fi協議:802.11 b/g/n/d/e/i/k/r (802.11n,速度高達150 Mbps),A-MPDU和A-MSDU聚合,支持0.4us防護間隔
頻率範圍:2.4~2.5 GHz
藍牙協議:符合藍牙v4.2 BR/EDR和BLE標準
藍牙音頻:CVSD和SBC音頻低功耗:10uA
工作電流:80mA(平均)
頻率範圍:2.4~2.5GHz
支持Arduino一鍵下載
支持micropython
片上時鐘:40MHz晶振、32.768KHz晶振
數字I/O:10(arduino默認)
模擬輸入:5(arduino默認)
SPI:1(arduino默認)
I2C:1(arduino默認)
I2S:1(arduino默認)
LED_BUILTIN:D9
接口方式:FireBeetle系列兼容
工作溫度:-40℃~+85℃
模塊尺寸:24 × 53(mm)/0.94 x 2.09(inches)
安裝孔尺寸:內徑3.1mm/外徑6mm
引腳佈局
FireBeetle Board – ESP32主板在硬件上除了兼容樂鑫官網的引腳佈局,還做了特殊的Arduino IDE的PIN兼容,使用Arduino IDE編譯時可以直接使用Dx(x=0,1,2,3,4 …)來控制相應的GPIO 口。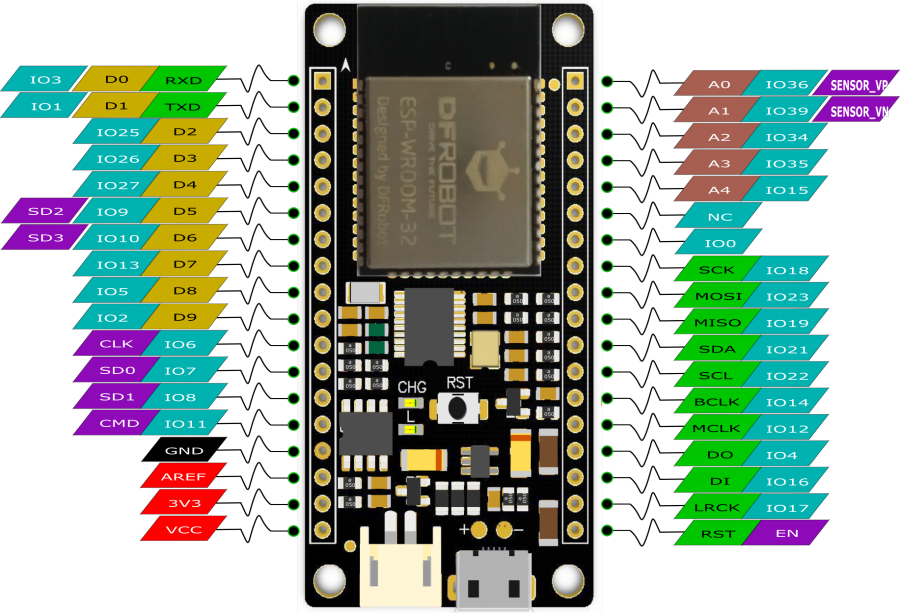 FireBeetle ESP32 IOT Microcontroller (Supports Wi-Fi & Bluetooth)
DFRobot FireBeetle series is the low-power consumption micro-controller intentionally designed for Internet of Things (IoT) projects. FireBeetle Board – ESP32 integrates a Dual-Core ESP-WROOM-32 module, which supports MCU and Wi-Fi &Bluetooth dual-mode communication. The electric current is just 10μA in the deep-sleep mode. The main controller supports two power supply methods: USB and 3.7V external lithium battery. And both USB and external DC can charge the Lipo battery directly.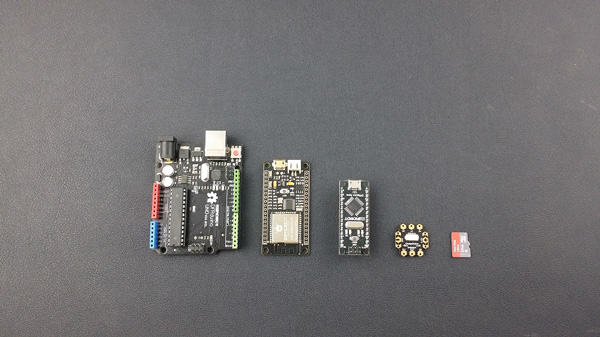 FireBeetle Board-ESP32 has made a special hardware design for Arduino IDE. You can make a download without switching boot-mode manually. It supports Arduino, IDF (linux), micropython etc. Moreover, FireBeetle made a pin mapping for Arduino IDE. It can be configured with Dx transport, compatible with arduino UNO and reduce the entry barrier.
The small size and high performance makes FireBeetle become idea solution for IOT low power consumption projects.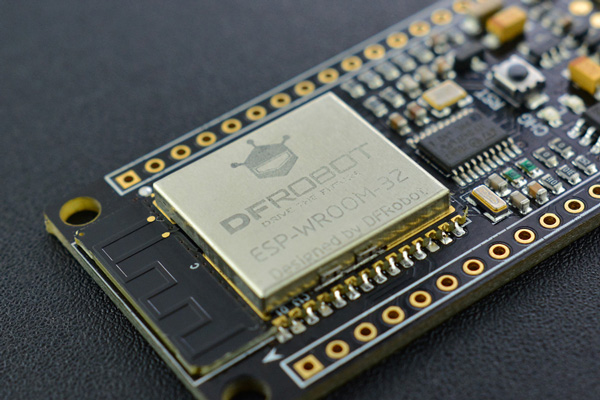 Please kindly note that developers are the most common users of FireBeetle Board-ESP32 and not all of the peripherals have examples for reference, and there are still some bugs being found and fixed. For Arduino IDE, all GPIO function, I2C/SPI communication has been working. But the other functions are still under development. We recommend this board for experienced engineer.
Version Upgrade: 1. Add a new anti-reverse connection silk-screen.  2.Change the Lipo battery connecter direction.