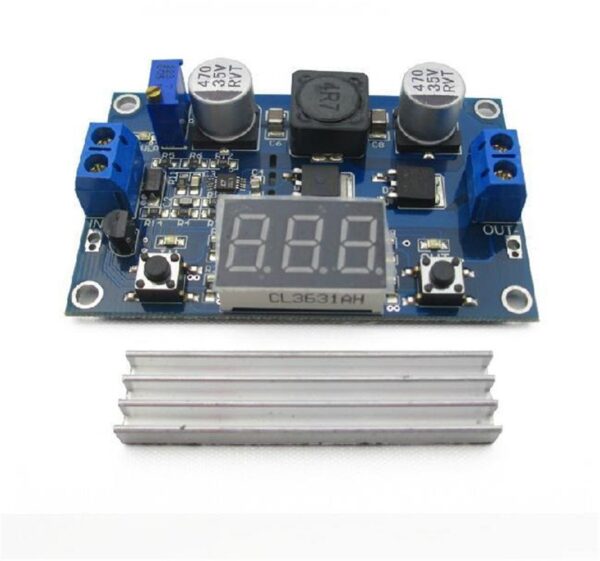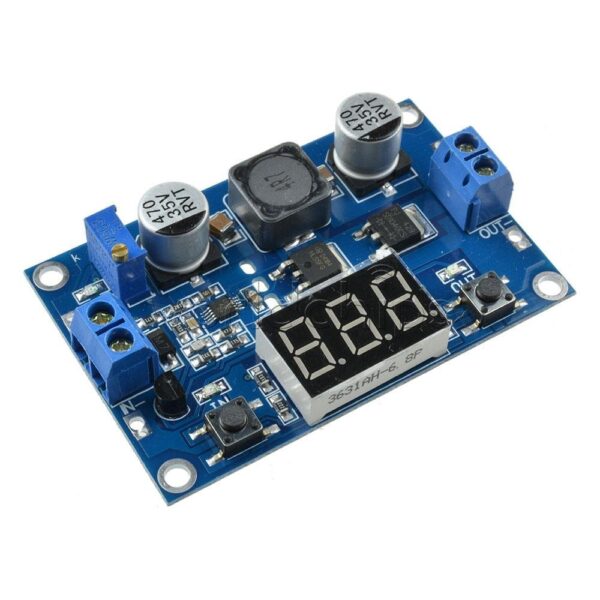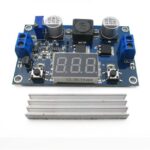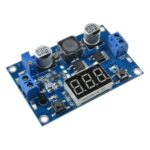 DC-DC 大功率可調式升壓模組 100W 帶數位電壓表
Compare
描述
DC-DC 大功率可調式升壓模組 100W 帶數位電壓表 輸入 3.0~35V 可調升壓至  3.5~35V 100W
顯示部分採用更先進的電壓表微處理器,升壓部分採用美國原裝進口升壓控制器,通過利用功率MOSFET的導通電阻而省去電流檢測電阻,最大限度地提高了效率,效率最高可達96.4%。進口大功率低阻MOS管,大封裝、大電流、高效率肖特基,超寬加厚的PCB走線,是大功率高效率低溫升的保證。超寬電壓工作,當輸入輸出電壓都在20V以上時可達到128W輸出功率。長壽命型開關電源專用高頻高容量低阻(低ESR)鋁電解電容,讓輸出紋波更低。模組所用晶片均採用原裝進口,用料十足,性能穩定。
輸入電壓:3 ~35V 直流( 注:輸入電壓小於4V ,板載電壓表失效)
輸入電流:9A (max )
輸出電壓:3.5 ~35V 直流( 此板是升壓板,輸出電壓要>= 輸入電壓)
輸出電流:6A (max )
輸出功率:75W ,(當輸入輸出電壓都大於20V 時可達到128W )
轉換效率:96.7% (最高)
輸出紋波:24mV(TYP)
板載電壓表量程:4~40V ,誤差+-0.1V
短路保護:有(限制電流14A ) 。溫馨提示:在接入大功率負載時,由於剛開機衝擊電流很大會限流自鎖保護,建議先開機,再接入負載。
輸入反接保護:無(如需要請在輸入串入大電流二極管)。
長x 寬x 高=67*43*12MM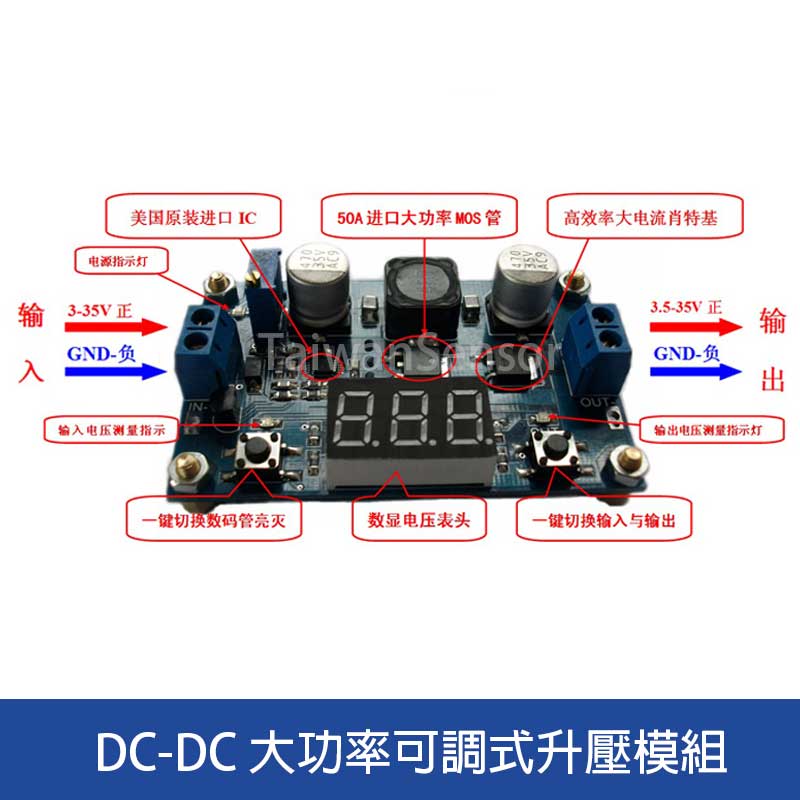 板載LED工作指示燈,工作狀態更顯直觀。
鍵切換數碼管亮滅,一鍵切換輸入輸出電壓的測量。(板載電壓指示燈"IN"亮顯示輸入電壓,"OUT"亮顯示輸出電壓)。
本產品強力推出,電壓顯示值程式自校正功能!永遠不會存在電壓表不精准的問題。
雙鍵組合校正電壓方法:
輸出電壓顯示校準
步驟1、調整右鍵使"OUT"指示燈亮,此時電壓表顯示輸出電壓;長按右鍵2S以上後鬆開,電壓表和"OUT"指示燈同步閃爍,這樣您就進入了輸出電壓顯示校準模式。
步驟2、短按(正常速度即可)右鍵一次,電壓值往上加一個單位的電壓值;短按左鍵,電壓值往下減一個單位的電壓值;由於一個單位的電壓值小於0.1V,電壓表最小顯示到0.1V,所以您需要連續按動1-5次才能看到電壓表變化了0.1V,具體連續按幾次鍵電壓表變化0.1V,取決於當前顯示電壓,當前顯示電壓越高,按動的次數越少。
步驟3、輸出電壓調整完,長按右側按鍵2S以上後鬆開,即可退出輸出電壓顯示校準模式。所有參數設置自動掉電保存。
輸入電壓顯示校準
步驟1、調整右鍵使"IN"指示燈亮,此時電壓表顯示輸入電壓;長按右鍵2S以上後鬆開,電壓表和"IN"指示燈同步閃爍,這樣您就進入了輸入電壓顯示校準模式。
步驟2、3與輸出電壓顯示校準方法一致。
校準功能是為了滿足您更高的精度要求而設計的,請放心使用。
應用範圍:
DIY一個穩壓電源,輸入5V便可,輸出可以5-35V可調。
為您的電子設備供電,可以跟據您的系統電壓設定輸出值。例如3.7V鋰電升5V做移動電源,7.4V或12V升19給筆記本供電等。
做為車載供電電源,為你的筆記型電腦,PDA或各種數碼產品供電。
DC-DC LTC1871 Boost Power Module High Power 100W Adjustable Output 3.5 ~ 35V Digital Display
The boost module uses advanced microcontroller and U.S. imports boost controller, it eliminates the need for a current sense resistor by utilizing the power mosfet's on-resistance, thereby maximizing efficiency, up to 96.4%. Imported high-power low-resistance mos transistor, heavy current and high efficiency schottky, wider and thicker PCB traces, is a guarantee of high-power and low temperature rise. When the input and output voltage is greater than 20V, the module up to 128W output power.
Features:
1. LED power indicator.
2. Button to switch measurement of the input or output voltage, and LED indicates the current measurement of the input or output voltage; The nixie tube can be turned off by another button. Mentioned states are able to be memorized, is not lost even if the power is disconnected. (On-board marked "IN" LED is turned on, the nixie tube display input voltage value, "OUT" LED bright display is the output voltage value).
3. Special launch, the voltmeter calibration function, will never exist voltmeter inaccurate!