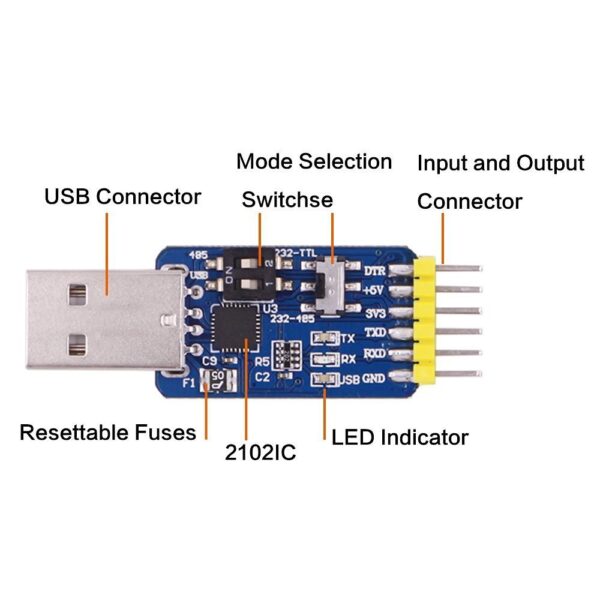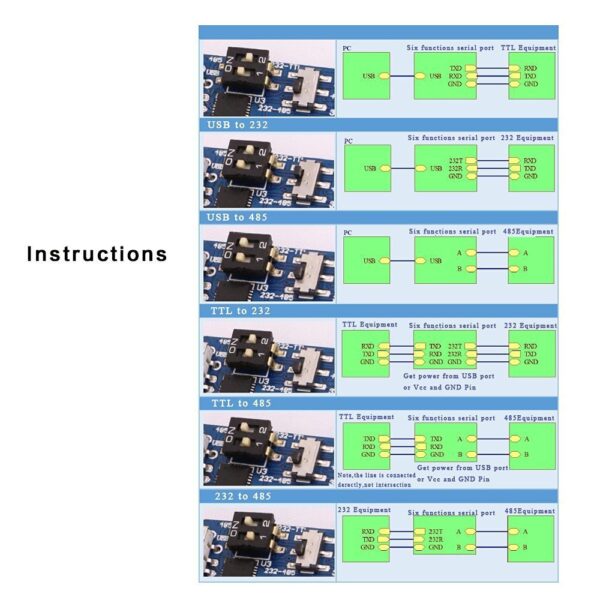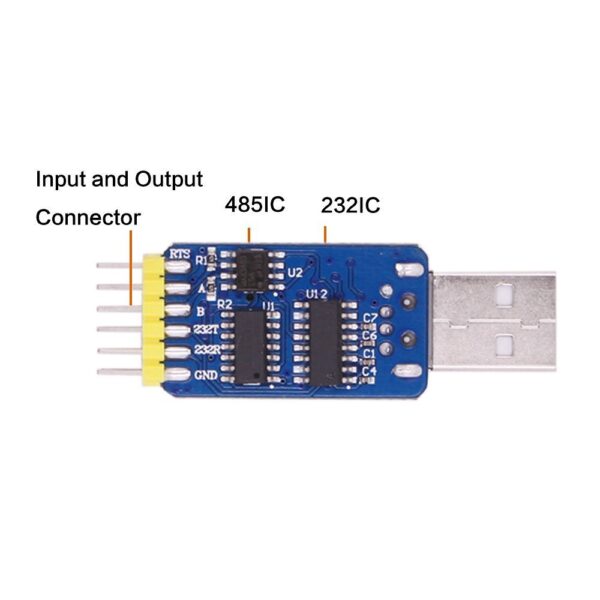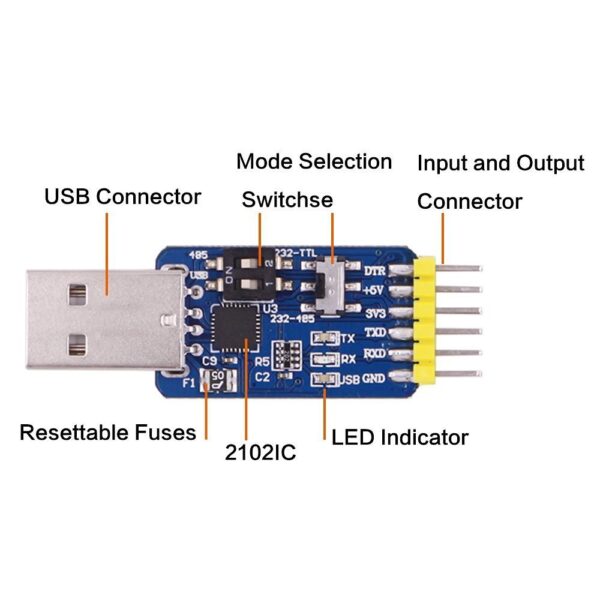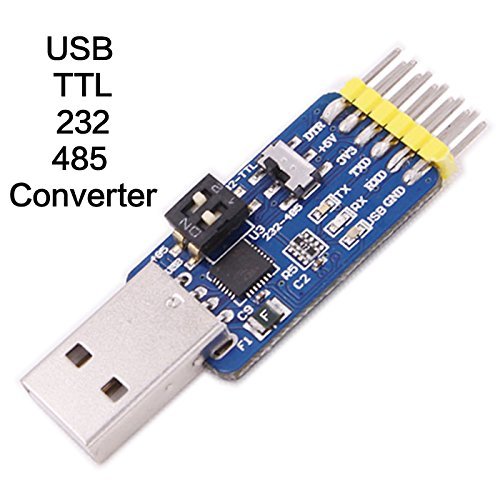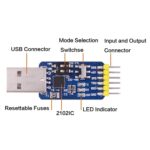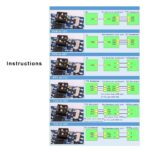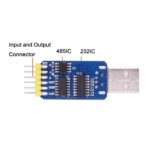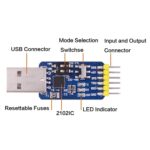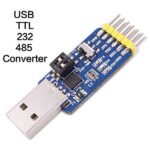 CP2102 六合一多功能串口模組 USB TTL 485 232自由互轉 3.3V/5V
Compare
描述
CP2102 六合一多功能串口模組 USB TTL 485 232自由互轉 3.3V/5V
USB、TTL、485、232 互轉 
兼容 3.3V/5V, 
支持Win8、Win7、WinXp、Win2K、WinCE、Linux、Mac
1個串口模組具6個模組的功能,最強大的USB串口調試工具,集USB轉串口(TTL)、轉232、轉485,TTL、232、485相互轉換6大實用功能於一身的專業調試工具,另還支援3.3V、5V電源輸出。模組操作方便、簡單,可用於單片機程式下載、串口通訊、485通訊等等,是進行單片機開發的必備神器!!
模組功能特點:
模組尺寸:只有3.5*1.8CM的超小面積,即使設計十分緊湊的筆記型電腦插上模組後也不影響其他USB口插入其他設備使用

電源輸出:支援5V/500mA、3.3V/100mA電源輸出,下載程式時可以方便地給3.3V或5V單片機供電

模組保護:板載500mA的自恢復保險絲,時刻保護模組和電腦免受大電流的傷害

指示燈:連接、接收、發送指示燈,即時知道模組是否與電腦連接上或在收發資料

通訊品質:專業的PCB佈局,使得模組通訊高效、穩定,通訊最高串列傳輸速率可以達2Mbps

介面:模組留有3.3V、5V、GND電源介面,串口TTL電平T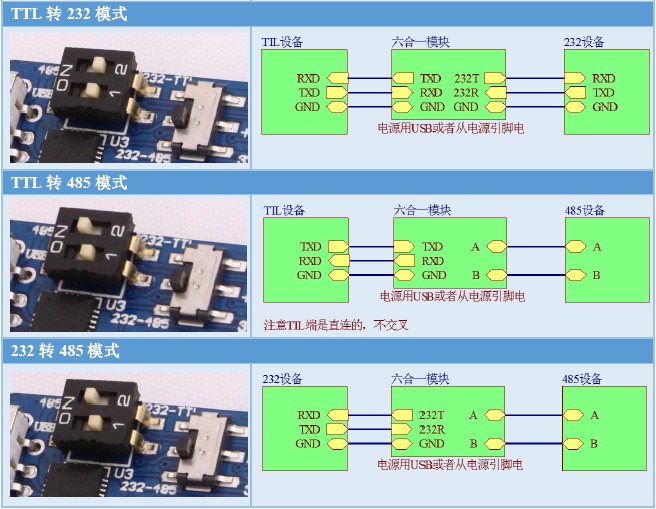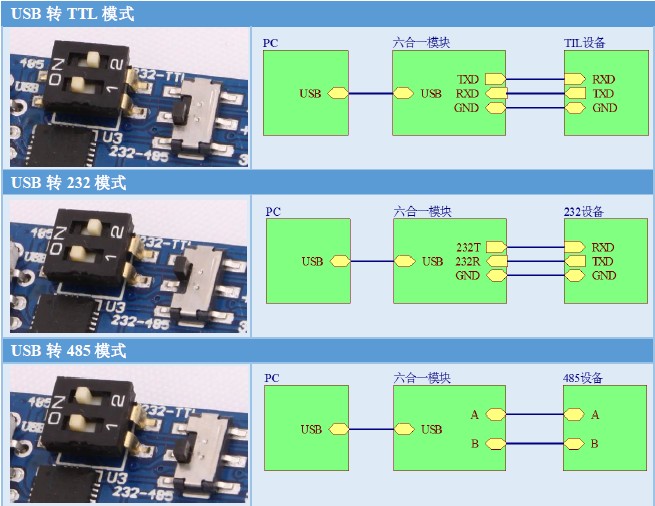 6 In 1 CP2102 USB To TTL 485 232 Converter 3.3V / 5V Compatible Six Multifunction Serial Module
Multifunction USB converter board fully supports Win8, Win7, WinXp,WinCE, Linux, 32-bit, 64-bit systems it!The history of the most powerful USB serial debugging tools, set USB to serial (TTL), to 232, turn 485, TTL, 232,485 conversion six practical function in a professional debugging tools, and the other supports 3.3V, 5V Oh the power output. Module ingenious design, making the board at the same time put the heat shrink tubing protection,
without affecting the operation of the module. Module easy to operate, simple and can be used for single-chip program download, serial communications, 485, etc., are carried out pro microcontroller development essential artifact! !
Module Features:
Module size: A compact design, the module is only 3.5 * 1.8CM ultra-small size, even if the design is very compact laptop plugged module does not affect the other USB port to insert other devices.
Power Output: Supports 5V / 500mA, 3.3V / 100mA power output, you can easily give 3.3V or 5V power microcontroller download program.
Module Protection: onboard 500mA self-recovery fuse, always protect your computer from a large current module and harm; supporting transparent shrink tube to prevent static electricity or electrical conductor hands of the module short circuit, causing damage to the module (put Heat Shrink Tubing will not affect the operation of your module oh).
Operation: to achieve mutual conversion USB, TTL, 232,485 physical switch function switch, please read the specific operation.Indicator: connection, receive, send indicator lets you know whether the real-time module is connected to the computer or on the send and receive data.
Communication quality: clever circuit design, PCB layout professional, making module communication efficient, stable, communication baud rate can reach up to 2Mbps. PCB Quality: Module chips used are industrial grade chips, modules for mass production, professional SMT chip, anti-s